Mutts Monthly Season 2…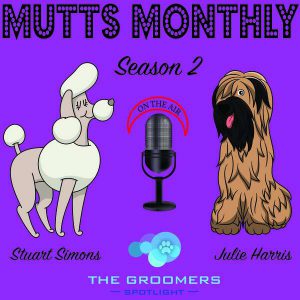 Episode 1:
Julie and Stu reunite over Olives and chat about all sorts of things, including COVID, Education and everything Pooch Perfect. What a Summer it has been!!!
Episode 2:
Stu & Julie chat about all things current and concerning our lives at the moment. Lockdown no 2, are us groomers essential? All the president's men and what to do if you find a tick!
As usual its all good fun and although every attempt is made to stick to a subject, it never really happens.
Have fun listening!
Episode 3:
In this episode, Stuart and Julie chat to Pooch Perfect UK Judge Colin Taylor, Legend of the grooming industry. They chat about all things from take-aways to anxiety! Never a dull moment!